Furniture offers a surprising number of ways to help staff manage patient or consumer incontinence with dignity.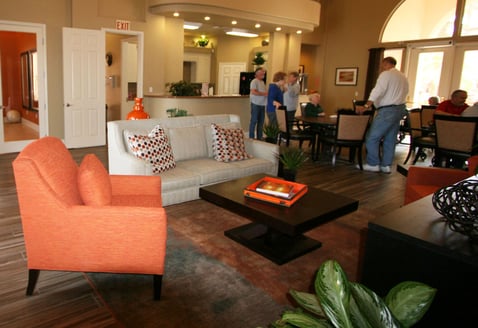 Once an expensive, disposable item after incontinence accidents, seating is now an effective tool in fluid management.
N7A range of options have been developed by dedicated furniture manufacturers in partnership with experts in senior living, developmental disability care, and limited mobility living.
The designs developed as a result of these industry partnerships surprised facility managers across the country due to their comfortable, residential styling yet surprisingly effective features that aid in incontinence management.Here is a summary of the spectrum of incontinence and fluid care seating options based on the frequency and quantity of fluid issues:
For occasional fluid spills or infrequent incontinence, many fabric treatments are available. Topical, residential fabric treatments are not durable enough for heavy use environments but specialized treatments like Crypton, Encase, and other integrated fabric treatments are extremely effective for occasional fluid issues. These health-care grade treatments are penetrated through the entire weave of the fabric then baked in to the fibers resulting in a completely fluid-resistant, sanitary fabric. The penetrative nature of the treatment resists breaking down like topical treatments and can be effective long-term when cleaned with appropriate cleaning agents.
Upholstery vinyl is another effective fluid deterre

nt that offers the same or better protections than fabric treatments. Vinyls are cost effective due to the fact that the components are naturally fluid resistant and no additional treatments are required. Contemporary manufacturing techniques have allowed vinyls to become softer, more supple, and generally more comfortable than vinyls produced in previous decades.
Fluid-proof decking is a cost-effective enhancement to seating built with specialized fabrics or vinyls. The fluid-proof decking is an additional piece of thick, fluid-proof vinyl built in to the seating piece that prevents fluids from penetrating the frame & springs inside the furniture. This is an important yet extremely cost effective tool to prevent odors from ruining furniture.
Removable seat deck furniture is the newest, most effective defense against fluids. Removable seat decking is fluid-proof decking on steroids. With removable seat deck furniture the support components under the seat cushions are combined into one removable piece. When combined with fluid-proof or fluid-resistant fabrics, removable seat deck furniture pools fluids under the seat cushions in a manner that traps the fluids and hold

s them for cleanup. The deck unit can be completely removed for thorough clean up further minimizing odor potential. Additionally, removable seat furniture has another layer of vinyl covering the internal frame making every part of the chair, loveseat or sofa 100% fluid-resistant which completely prevents odors from inside the furniture. For moderate to severe incontinence, removable seat deck furniture is the gold standard of fluid management.
The spectrum of fluid options provided by furniture can offer patients and clients comfortable, residential-style seating while providing facility managers peace of mind that their investment in furnishings will be protected and, as a result, will extend the replacement cycle of furniture. When planning new furniture for your group living facility always choose a furniture provider who understands the needs of your consumers and has offering that will be durable and appropriate.