Ever get the feeling your office chair is more of a problem than a solution?
Poorly designed office chairs have been blamed for decades of sore joints, backaches and headaches. A good chair is a big investment so make sure you have prepared your wish list before you shop.
Most office chairs appropriate for the typical 8 hour work day are designates as "ergonomic." In general, an ergonomic chair is any of the variety of chairs designed for seated use during stationary tasks that offer levers for adjusting the chair to the individual's musculoskeletal variations. The bells and whistles offered by ergonomic chair manufacturers is dizzying but here are some things to look for: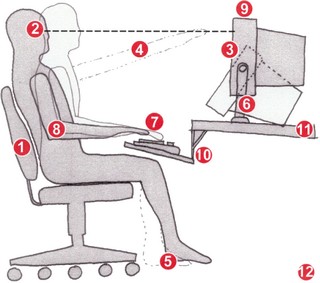 Adjustable enough to fit you and your working style.

Comfortable for as many hours as you need it to be.

Padded seats may be more desirable than mesh as padded seats offer a better distribution of weight.

Front seat edge that is soft and flexible

Good lumbar support which will fit your back.

Shoulder and back support.
While there can be correlation between cost and benefit when it comes to office chairs that is not always the case. More expensive is not always better but you should be prepared to spend a couple hundred dollars on the right chair.
Here is a great article from the Wall Street Journal that points out a few more pointers. Does Your Chair Have Your Back?